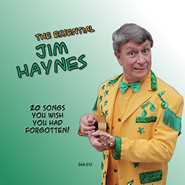 The ESSENTIAL JIM HAYNES
20 Songs You Wish You Had Forgotten
At Last! All the songs Jim performs regularly plus the songs most associated with him over his career – on one CD! Cheryl Went Feral, The Fish Song, Wagga Wagga, Losing It, Colonoscopy … the duets with Wayne Horsburgh, Beccy Cole and Melanie Dyer and a dozen more!!